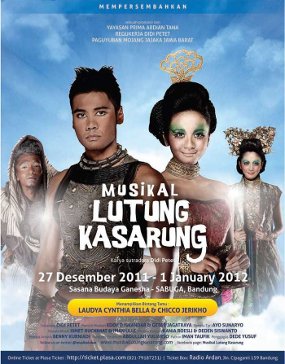 Want a different year-end holidays? Come to Bandung. Not to invade factory outlet stores or any distro - it still is common. But, try this one: watch the musicals "Javan Kasarung '.
The story of the legend of Sunda land will be cultivated in a modern re leaving no element of tradition, and staged at the Cultural Sasana Ganesha (Sabuga), Castle Road no. 73 Bandung starting today, Tuesday (12/27/2011) until January 1, 2012.
Musicals "Javan Kasarung 'directed by Didi Petet and displays artist Cynthia Bella and Chicco Laudya Jerikho as a guest star. Didi promises a show-quality stage-performances in the Broadway stage. "Content is local, but the quality of international fixed!" He said.
With the subtitle 'monkey of Lost', the musical 'monkey Kasarung' tells the journey of the heaven that Sanghyang Guruminda Buana Panca relegated to the Middle (Earth) in the form of a monkey (a type of monkey). In his journey on earth, the ebony princess dream find heart in the figure turns out there Purbasari Ayuwangi.